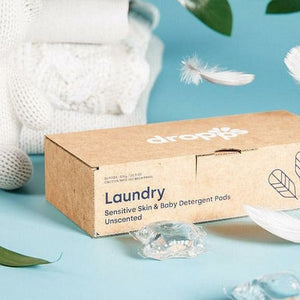 Dropps
Sensitive Skin & Baby Laundry Pods - Unscented
Regular price
$0.42
$0.00
Unit price
per
Gentle cleaning for sensitive skin, delicates, and natural fibers.
This gentle formula is a great solution for sensitive skin, natural fibers, and delicate clothes. It's their original detergent, the one that started it all!

-Sensitive Skin Friendly
-Suitable for Babies & Pets
-For Natural & Fine Fabrics
-For Delicates & Intimates
This detergent can be used on all fabrics, but is recommended by Dropps for natural fibers and delicates like silk, cashmere and wool. For intimates or other items that could snag, consider putting them in a mesh washing bag. Works with all machines.

--3rd Party Lab Tested
--Cruelty free
--HE compatible
--Made in USA
Fragrance-Free • Dye-Free • Enzyme-Free • Phosphate-Free • Pthlalate-Free • Paraben-Free • Optical Brightener-Free • Never Tested On Animals
How to Use
1 pod = 1 load

First, toss pod into the washer drum.
Then, add your armful of laundry
Next, choose your wash cycle.
Our powerful little pod will take care of the rest. 

For best results: use dry hands and don't overfill your machine. Store in an airtight box and keep secure away from little ones and pets safe 
INGREDIENTS:
Alcohols, C12-16, ethoxylated*, glycerin*, alkyl (C10-16) ether sulfate, sodium salt*, water, polyethylene glycol monododecyl ether*, polyvinyl alcohol film (PVOH) with bittering agent. *Denotes plant or mineral origin.
---